In the midst of the Aravali ranges, Jaipur stands as a land rich in forts, palaces, and a history steeped in royal grandeur. The breathtaking scenery, the majestic cultural elements, and the magnificent architecture will leave you amazed throughout the day. Yet, the nightlife in Jaipur is just as thrilling. The city transforms into a beautiful spectacle at night, offering splendid views as renowned landmarks are elegantly illuminated after sunset. So, let's embark on a curated journey through the 7 best places to visit in Jaipur at night for an amazing night out.
Places to Visit in Jaipur at Night
As one of the largest cities in Rajasthan, Jaipur is a bustling metropolis that is home to a stunning array of architecture and culture. From the iconic Hawa Mahal to the majestic Amber Fort, there is no shortage of places to explore in Jaipur.
But what makes Jaipur truly special is its vibrant nightlife. Thanks to its large student population and thriving nightlife scene, Jaipur is often referred to as the City of Lights.
Whether you're looking for a lively party scene or a more relaxed atmosphere, there's sure to be a place that suits your needs. Here are just a few of the many fascinating places to visit in Jaipur at night:
1. Hawa Mahal: A Must-Visit Monument at Night (#No.1 Places to Visit in Jaipur at Night)
Hawa Mahal, also known as the "Palace of the Winds", is one of the best Places to Visit in Jaipur at Night. Built-in 1799 by Maharaja Sawai Pratap Singh, Hawa Mahal is an impressive five-story building with a pyramidal shape and 953 small windows. These windows were designed to allow the ladies of the royal household to observe street festivals while remaining unseen.
The best time to visit Hawa Mahal is at night when the monument is lit up with colorful lights. The views from the top of Hawa Mahal are simply breathtaking and not to be missed!
2. Jal Mahal: An Enchanting Palace in a Lake
Jal Mahal is one of the most beautiful and enchanting palaces in Jaipur. It is situated in the middle of a lake and has four storeys, each with a different terrace. The palace was built by Maharaja Sawai Jai Singh II in 1799 and is made of red sandstone. It is a perfect place to enjoy the sunset and the views of the city.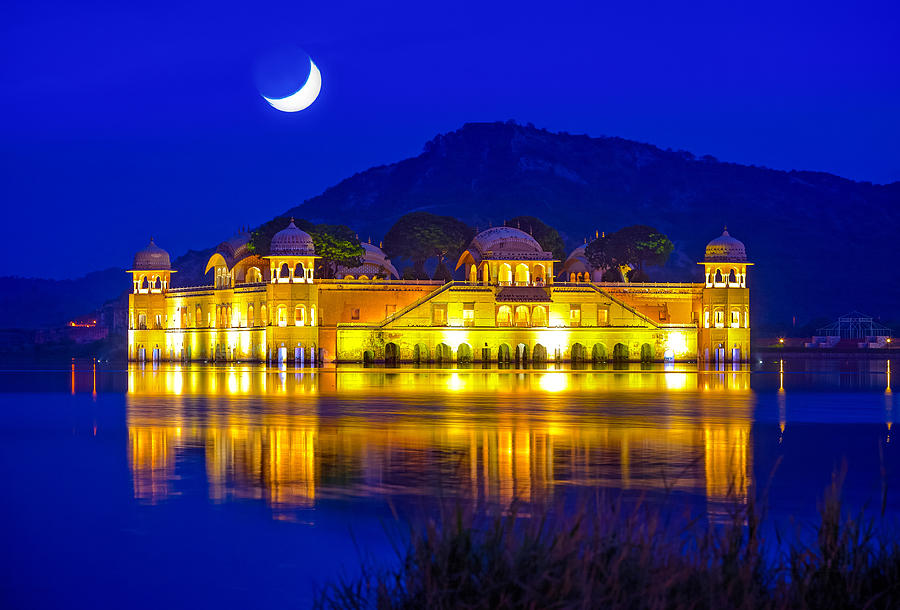 3. Nahargarh Fort for Spectacular Views of the City
Nahargarh Fort is one of the Places to Visit in Jaipur at Night. The fort offers spectacular views of the city, and is a great place to enjoy the sunset. There are plenty of photo opportunities at the fort, and it is also a great place to learn about the history of Jaipur.
4. Albert Hall Museum: A Fascinating Collection of Artifacts
The Albert Hall Museum is one of the Places to Visit in Jaipur at Night. The museum houses an impressive collection of artifacts from all over the world. The highlight of the museum is the replica of the Statue of Liberty, which was gifted to the people of Jaipur by the American government. Other interesting artifacts on display include a rare collection of clocks, paintings, and sculptures.
5. Chokhi Dhani: A True Rajasthani Village Experience
When it comes to experiencing the best of what Jaipur has to offer, a visit to Chokhi Dhani is one of the Places to Visit in Jaipur at Night. This authentic Rajasthani village offers visitors a true taste of traditional culture, complete with delicious food, music, dance, and more.
The village is located just outside of Jaipur, and is easily accessible by car or bus. Once you arrive, you'll be greeted by the friendly staff and given a tour of the property. Be sure to check out the beautiful temples and have your fortune told by one of the resident astrologers.
As night falls, the real fun begins. You'll enjoy a delicious meal served in traditional style, complete with live music and dance performances. And if you're feeling brave, try your hand at some of the traditional games on offer. From archery to camel riding, there's plenty to keep you entertained all night long.
So if you're looking for an authentic Jaipur experience, be sure to add Chokhi Dhani to your list of places to visit. You won't regret it!
6. Jantar Mantar Observatory for Stargazing
Jaipur's Jantar Mantar Observatory is a great place to enjoy the city's night sky, a . The observatory was built in the 18th century by Maharaja Sawai Jai Singh II, and it is one of the largest and most accurate astronomical observatories in the world. Visitors can use the observatory's instruments to observe the stars and planets, and they can also take part in educational programs about astronomy.
The Jantar Mantar Observatory is a great place to stargaze. It was built in the early 18th century by Maharaja Jai Singh II. The observatory has a number of instruments that were used to study the stars and planets. The instruments are still in use today and are a popular tourist attraction.
7. Raj Mandir Cinema
The Raj Mandir Cinema is one of the most iconic and popular movie theaters in Jaipur and it is one of the Places to Visit in Jaipur at Night. It is known for its beautiful Art Deco architecture and for being one of the first theaters in India to adopt the Dolby digital sound system. The Raj Mandir Cinema is also one of the few theaters in Jaipur that still screens Bollywood films. If you want to experience a truly classic Jaipur experience, then a visit to the Raj Mandir Cinema is a must.
Conclusion
Jaipur is a wonderful tourist places in rajasthan, as it is home to many interesting attractions. The Royal City of Jaipur has something for everyone who wants to experience its beauty and culture after dark. Whether you want to look out over the city from Nahargarh Fort or gaze in awe at the glittering lights of Jal Mahal, there are plenty of fascinating places waiting for you in Jaipur. So why not take some time out of your busy schedule and plan a trip to this incredible city? You won't regret it!
READ NEXT: 7 Best Places to Visit in Coorg

RELATED POST:
1. Top 10 Best Hill Stations Near Erode
2. 7 places to visit in Ooty in one day
3. 8 Unique Places to Visit in Delhi for an Unforgettable Experience
4. 7 Unique Places to Visit in Kashmir: Discover the Hidden Gems
5. Top 10 Best Waterfalls in Tamilnadu