Are you looking for some of the best waterfalls in Tamilnadu?, a state at the southernmost tip of India is home to some of the most spectacular and breathtakingly beautiful waterfalls. All these majestic tumbles have something special that draws travelers from all over the world to visit them every year. So if you're ready to explore Tamilnadu's heavenly side, let us take you on a journey as we delve into its top 10 picturesque waterfalls!
Waterfalls in Tamilnadu
1. Agaya Gangai Waterfalls – Kolli Hills #No.1 Waterfalls in Tamilnadu

Tamilnadu, a state in South India, is home to some of the most beautiful natural wonders in the country. Among these, the Agaya Gangai Waterfalls in Kolli Hills continues to draw visitors from far and wide. Located in the Namakkal district of Tamilnadu, this stunning waterfall is nestled amidst lush greenery and cascades down from a height of 300 feet. The rushing sound of water and the cool mist emanating from the falls make for a spectacular sight. Visitors can enjoy a dip in the freshwater that flows downstream, making for a refreshing and rejuvenating experience. The Agaya Gangai Waterfalls is a must-visit destination for nature lovers and adventure seekers alike.
2. Hogenakkal Falls – Dharmapuri
Hogenakkal Falls, located in the Dharmapuri district of Tamilnadu, is a stunning sight to behold. It is often referred to as the "Niagara Falls of India," and for good reason. The falls are created by the Kaveri River as it cascades over a rocky terrain, creating a mesmerizing scene of frothy white water and mist. The falls are not only a visual marvel but also offer a range of activities for visitors. From boat rides to trekking, there is something for everyone. Additionally, the surrounding area is dotted with small villages and offers a glimpse into the local way of life. Whether you're a nature lover or simply want to escape the hustle and bustle of daily life, Hogenakkal Falls is a must-visit destination.
3. Thirparappu Waterfall – Kanyakumari
Nestled in the serene town of Kanyakumari, the Thirparappu Waterfall is a must-visit destination for nature lovers. This captivating beauty lies in the southernmost tip of Tamilnadu and is surrounded by lush greenery and rocky cliffs. The falls cascades from a height of 50 feet and forms a crystal-clear pool where one can take a refreshing dip or simply bask in the tranquility of nature. The Thirparappu Waterfall offers an alluring respite from the hustle and bustle of city life and is a testament to the breathtaking Waterfalls in Tamilnadu that continue to enchant visitors from all around the world.
4. Courtallam Falls – Tenkasi
Courtallam Falls, also known as Kutralam Falls, is one of the most popular waterfalls in Tamilnadu. Located in Tenkasi, these falls are known for their natural beauty and are a popular tourist destination. The falls are formed by the Chittar River that flows through the Western Ghats and creates a stunning natural cascade. Visitors can enjoy the refreshing cool waters of the falls and explore the surrounding lush green forests. Courtallam Falls is a must-visit destination for those who love nature and want to experience the beauty of Tamilnadu.
5. Monkey Waterfalls – Valparai
Located in Valparai, Monkey Waterfalls is a beautiful natural gem that is not to be missed. As one of the many stunning waterfalls in Tamilnadu, Monkey Waterfalls is a popular spot for nature lovers and adventure seekers alike. Its cascading waters and lush greenery create a serene atmosphere, making it the perfect place to unwind and reconnect with nature. Whether you want to take a refreshing swim in the cool waters or simply enjoy the spectacular views, this waterfall is definitely worth a visit. Plan a trip to Monkey Waterfalls and experience the natural beauty of Tamilnadu for yourself!
6. Agathiyar Falls – Papanasam
Waterfalls in Tamilnadu are a tourist attraction that captivates visitors with their natural beauty and peaceful surroundings. One such waterfall that stands out is Agathiyar Falls located in the serene town of Papanasam. This magnificent waterfall is situated amidst lush greenery and tall trees, offering a refreshing escape from the hustle and bustle of daily life. Visitors are often mesmerized by the sight of water cascading down from a height of 300 feet, creating a mesmerizing spectacle. The fall is named after the renowned Tamil sage, Agathiyar, who is believed to have meditated in the nearby hills. This waterfall is not just a visual treat but is also considered to possess healing properties due to its natural source and surroundings. The therapeutic and soothing sounds of the waterfall make it an ideal spot for meditation and yoga. A visit to Agathiyar Falls is a must for anyone looking for a peaceful getaway amidst nature's splendor.
7. Suruli Falls – Cumbum
Tamil Nadu has a wealth of natural beauty, and the Suruli Falls in Cumbum is one of its hidden gems. Located in the Western Ghats of the state, the falls offer a refreshing and tranquil break from the hustle and bustle of city life. The cascading waters, surrounded by lush green forests and towering hills, create a picturesque and serene landscape that captivates visitors. What makes Suruli Falls truly special is its mythological significance, as it is believed to have been the place where Lord Shiva and Parvati tied the knot. As one of the most popular waterfalls in Tamilnadu, Suruli is a must-visit for nature lovers and anyone seeking peace and quiet in a breathtaking setting.
8. Kumbakarai Waterfalls – Theni
Kumbakarai Waterfalls is one of the most scenic and breathtaking waterfalls in Tamilnadu. Located in Theni, it is a popular destination among nature lovers and adventure enthusiasts. The falls are surrounded by lush greenery and provide a picturesque view of the Western Ghats. One can take a dip in the pristine water and enjoy the cool mist that envelops the falls. The trek to the falls is also a popular activity among visitors. With its serene ambiance and mesmerizing beauty, Kumbakarai Waterfalls is certainly a must-visit destination for anyone looking to explore the natural beauty of India.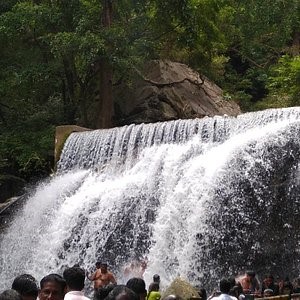 9. Catherine Water Falls – Kotagiri
Nestled amidst verdant hills, Catherine Water Falls in the town of Kotagiri is a sight to behold. One of the most iconic waterfalls in Tamilnadu, Catherine Water Falls cascades down from a height of over 250 feet, offering a spectacular view to onlookers. The waterfall derives its name from the wife of M.D. Cockburn, who discovered it in 1837. Surrounding the waterfall is a picturesque landscape of tea gardens and dense forests, making it a serene and ideal place to spend a day soaking in nature's beauty. Visitors can take a refreshing soak in the natural pool at the base of the falls or explore the nearby trekking trails. Overall, a visit to Catherine Water Falls is a must-do experience for anyone wishing to immerse themselves in the natural wonders of Tamilnadu.
10. Siruvani Waterfalls – Coimbatore
The Siruvani Waterfalls in Tamilnadu are one of the most picturesque waterfalls in Tamilnadu. The crystal-clear water cascading down the rocky terrain is a sight to behold. Nestled in the dense forest of Western Ghats, the Siruvani Waterfalls are also known for their medicinal properties owing to the mineral content in the water. This makes it a popular tourist destination as well as a significant source of drinking water for the residents of Coimbatore. The perfect mix of nature's beauty and utility, the Siruvani Waterfalls can leave anyone spellbound with its magnificence. It is a must-visit place for all nature lovers!
Conclusion
So, now that you know the top 10 best waterfalls in Tamilnadu, why not pack your bags and explore some of them? Each waterfall has to offer a unique experience so finish one before travelling to the other. Seeing such spectacular views is an incredible reminder of nature's beauty in Tamilnadu. And when you take those pictures, make sure to share them with us as well! Here's hoping that your journey through Tamilnadu and its fascinating landscapes is an unforgettable adventure!
Which one of these waterfalls would you most like to visit in Tamilnadu?
READ NEXT: 7 Unique Places to Visit in Ooty