Corporate wall art paintings are a great way to make your workplace more inviting and personal. Read this Best 5 Corporate art blog to understand all aspects.It can also be a great way to show off your company's personality. The workPlace can use art to make any workplace more welcoming, inspiring, and even profitable. 
It is vital to make your workplace functional and where you want to spend time. You can do this by adding some art that you like, which will make your workspace more inviting and enjoyable. Many types of art can be used to decorate the workspace. For example, some people want to have paintings or photographs on their walls, while others prefer sculptures or other works of art. Whatever type of art you choose, it is essential to find something that will fit well with the rest of the office decor and reflect the culture and values of the company.
There are many ways to add art to your office space, but these five are just a few examples of how you can use art to make your workplace dazzle.
Multiple Framed Printed World Map Canvas Painting
This type of artwork is a great way to show off the company's worldwide presence and promote collaboration among employees from around the globe. It also provides a fantastic opportunity for employees to learn about other cultures and countries worldwide. 
Get the perfect wall decor for your space with this multi-framed canvas painting. The digital print is done using a high-quality machine and looks stunning in any house room. It is printed on a high-quality canvas using vibrant colors that would brighten up your walls. This modern piece of art would make a great addition to any interior style of Home Décor Ideas. A well-designed workplace can boost employee morale, productivity, and creativity.
Multiple Frames, Beautiful Deers Wall Painting
This wall painting is perfect for those who want a natural feel in their office. It features some beautiful deer in a forest. This wall painting will make your office look like a forest in the middle of winter. In addition, the artwork will give you a fantastic view of a deer and its surroundings. It would be a great addition to any wall in the office. 
If you want to add some vintage vibe to your office, this vintage print is perfect for you! It is not only beautiful but also very affordable. Some companies use these paintings to make their workplace more appealing and homely. These paintings can also be used as a great way to add some color to your office walls.
Beautiful Folk Indian Dance Wall Painting
This painting is perfect for those who want their workspace to have a traditional Indian touch. This wall painting depicts the beauty of India through its folk dances. The artist has depicted some famous Indian dances on this wall painting to make anyone feel transported into India. The Indian culture is rich in colors, art, and dance. The Indian culture is also a part of modern Indian art. You can find these elements in different forms in Indian paintings and wall arts.
Multiple Frames are great for adding some color and character to any space. They can be used as a backdrop to an empty wall or hung on the wall as art pieces themselves. You can find frames in all shapes and sizes, from simple black frames to ornate gold frames. The best part about them is that they are so affordable!
Circuit Board Art, Glass Wall Decor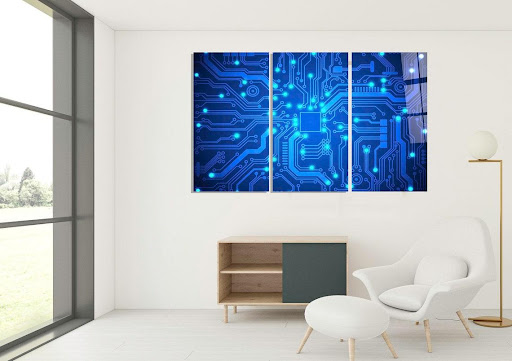 Circuit boards are an excellent Decorating Ideas for any office space because they have a modern, sleek look that will still be relevant in ten years. They also are great conversation starters and can be used as inspiration for future projects. In addition, it is a well-known fact that the physical environment of an office has a strong influence on its employees. For this reason, employers invest in interior Design Inspiration to create a more suitable working environment for their employees. this is the best option in Best 5 Corporate art blog list.
Circuit board wall art is a creative way to bring the beauty of technology into your workspace. It will also show that you are always looking for innovations in technology. Glass wall decor is a great way to add light to an otherwise dark room. It's also a great way to add color, texture, and depth to any space.
Paintings with Frame for Cafés
Wall paintings are an emerging trend in the modern interior design industry. They are also a great way to add a personal touch to your office café. Paintings with frames for cafés can be used to create an inviting and professional ambiance in your café. They are also a great way to bring color and character into your café. 
They are also a great way to make your customers feel welcome at the office. These paintings can be custom-made for your café, or you can find them on the internet. All you need is a frame for the image, and it will be ready for display. In addition, these paintings are more durable and can withstand the wear and tear of the daily life of a café, restaurant, or office space.
Paintings with frames can be used in any café style. They are perfect for cafés that want to create an intimate and cozy atmosphere or for cafés that want to use the paintings as a focal point in the space.
Conclusion:
Art is a significant part of our lives. It can be seen in the way we dress, the way we decorate our homes and offices, and the way we express ourselves. Art is also an integral part of our workplaces. A well-designed and decorated office space can make employees feel more engaged, motivated, and inspired. 
Art is a great way to bring color and life to any workplace. It can help inspire creativity and stimulate the senses. The best part is that you don't need to be an artist or have a lot of money for a large piece of art. Instead, you can find affordable art that will make your office feel like home.
A workplace is a place of work for the employees. Therefore, workplace design can affect the productivity and creativity of the employees. drop your comments on  Best 5 Corporate art in the comments.
READ NEXT: Pro Tips for Choosing Artwork for Your Home
RELATED TOPICS: Decorative items for home
Tips to Décor Your Home with These Abstract Art Painting Pieces
Decorate your home with Contemporary art
Best 5 Corporate art to make your Workplace Dazzle