An outdoor space feels incomplete without backyard decoration in play. You could select from various looks and makeovers depending on the type of landscaping you want.
Backyard landscaping could benefit from a range of ideas. The look you select will depend on the space, water resources, flower growing rate, and style. For instance, having a waterfall in your backyard may not work if you've little space and minimal water supply. 
But even if you have a small outdoor space, we've got you covered. Have a look at the 25 brilliant backyard ideas below – which one would you choose?
1. Add flowers of bright colors
If there's not much color in your backyard, planting bright flowers would give the space the pop it lacks. Small flowers like poppies and peonies look great.
2. Climbing moonflowers
Who doesn't love climbing plants? They give a vintage appeal, especially when growing against a stone wall or rustic setting.
3. Create a firepit
It's a great idea if you live somewhere that's mostly cold, but a firepit works for fun and warm summer nights too.
4. Craft a royal backyard entrance
Does your backyard have a separate gate? Picture an arch with twined wood and branches as the entrance to your outdoor space. You can occasionally fill it with wreaths and leaves, or even wrap fairy lights around it for an illuminated night.
5. Bunch of roses for a full-bloom display\
You can combine roses of various colors that look great together. Pink and red for an all-soft look, or even high contrast tones like yellow and red. The choice is yours.
6. Make a 'cozy' backyard corner
Picture yourself sinking into the comfort of bean bags, cushions, and couches. Accessories make furniture on the porch look and feel better. Select textiles of your favorite colors and textures.
7. Make a wall arrangement of plants
Plants don't always have to be 'grounded'. You can even pick glass terrariums and hang them around the entrance or other areas where there is space.
8. Add translucent curtains around the setting
Do you have a separate space for sitting? If you have a mini porch with sofas and tables with a proper seating arrangement,
9. Small waterfalls and tiny ponds
Waterfalls don't have to be huge. If you have a rock corner, a stream of water flowing from a tiny hole looks mesmerizing. Additionally, you could have a few pits where the water gathers into small ponds.
10. Decorate with recycled items
Make out the most of unused items lying in the corners of your home. For example, you could use spare tires to put in artificial plants or even proper plantations.
11. Decorate the ground with stones
You could choose from various stones to decorate your backyard. But big boulders are mostly meant for huge outdoor spaces, whereas pebbles fit in better into smaller ones.
12. Add wandering paths and walkways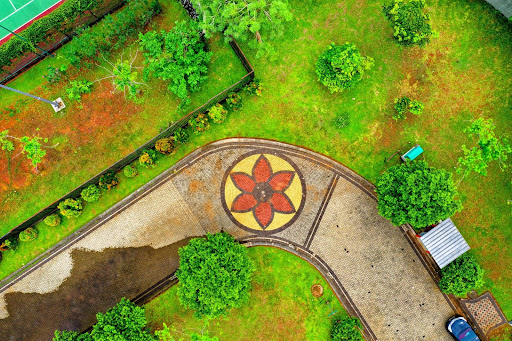 Just like stones, having flat cement fixed into the ground as a walkway can add adventurous vibes to your outdoors.
13. A blend of fire and water
We've talked about waterfalls, how about having a fire burning around too? Of course, you would need to consider safety hazards before jumping into this setting.
14. Install a gazebo
If you have a high budget, get a gazebo constructed. One with a triangular pointed top suits well with any type of surrounding vibe.
15. Birdfeeders, birdhouses, and creative planters
Planters and birdhouses come in many colors, shapes, and sizes. Combine them to match the colors you already have in your backyard. You can get wooden ones and even paint them!
16. Antique decoration items
Who can deny the vintage vibes of old metallic objects? If you've got space, you could get an iron bench too, as they're delicately decorated.
17. Small fence borders
Fence borders look classic. Get white and wooden ones as they work well in every setting.  And you don't have to surround your entire backyard with them. You can install them around flowers or other sections as you please.
18. Install a mini fountain
Adore fountains but don't have much space in your backyard? How about going for a small one as the centerpiece? You could even have a wall fountain against a classic brick wall if you have one.
19. Tweak the waterfall with lights
Use spotlights or background lights behind the waterfall and watch the water sparkle as it plays.
20. Add artificial grass
Is your backyard all cement or stone and lesser green? Pick some artificial grass pieces and roll them out like carpets in various spots.
21. Set up canopies to protect from the sun
If you don't want to get a gazebo done, you can even set up tiny canopies. They'll protect you from the shade and also create a beautiful boho look.
22. Garden in a geometric layout
A geometrically planned garden looks harmonious. You could have a floor layout in the form of a pentagon, diamond, for example. You could even have the geometry playing out in any corner of the backyard – in the shape of vessels or plant arrangement on the wall.
23. Having a landscaped oasis
A landscaped oasis is like an escape to a greener world. Here are some elements for you to achieve it in your backyard:
A porch with a view looking out to a small or big pond, depending on your outdoor space.
There's more greenery compared to flowers. It's soothing on the eyes and simpler to maintain if you find it difficult to maintain blooms.
You can add some flowers in hanging pots to give your landscaped oasis a magical feeling.
24. An entertaining backyard
How about turning your backyard into a complete entertainment portal? Add a screen and projector to the 'cozy' section of your outdoor space, if you have one.
25. Having a barbecue setup
Garden and outdoor living are incomplete without having a proper barbecue setup. Just get one grill, make a separate corner for it and you're good to go. You can even make it a component of your entertaining section.
Conclusion
So you don't need to renovate your backyard completely to tweak its vibes or improve its look. Decoration choices will be easier for you if have the look in advance. The above ideas are vast and ample enough for an outdoor space that's both big and small. Tell us which
READ NEXT:5 Indoor Plants Perfect For Small Interior Spaces
RELATED TOPIC:garden ideas