Introduction:
Following a healthy diet and investing in quality skincare products are fundamentals for healthy and radiant skin. Therefore, it is mandatory to pile up the right beauty product on your dressing table. We have conducted deep research and come up with a list of the Best Skincare Brands in India that claim to make your skin look younger, fresh, and glowing. So, let's get straight into it.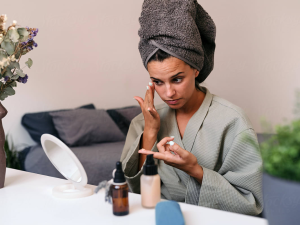 Re'equil
This is a two-in-one brand that covers hair and skincare. It does excellent work at both, although we prefer its skincare a little more. Its dermatologist-tested line of products is extremely reasonable for its top standard, and it handles a wide range of the most common skin issues in both youngsters and aged people, including hyperpigmentation, acne scars, and eczema skin, and clogged pores.
Juicy chemistry 
If you love herbal things on your face, juicy chemistry is the skincare brand for you. These products are truly organic with no sulphates and their derivatives or added fragrances to keep your skin healthy and safe for longer. Having said that, no additional preservatives also mean quick expiration. So, keep an eye on their expiration as well. 
Proactive 
It is known worldwide for its best acne treatment products. You will find a huge line of skincare products here that you won't need to go anywhere else. Try out its cleansers, skin toners, moisturizing lotions and creams, and anti-acne masks to beat the acne fast. Go nowhere else if you have acne-prone skin as this brand is a complete package for you. 
Neutrogena for glowing skin
Next comes another famous brand, Neutrogena. You will find its cleanser, face washes, scrubs, and masks in any supermarket easily. Among dermatologists, it is well known for its high to low SPF sunblocks for all types of skin. Moreover, its hand and feet creams are best for making hands and feet skin soft and hydrated. 
Lotus Herbals 
Another leading herbal brand in India after juicy chemistry is lotus herbals. They make all the skincare products utilizing herbal ingredients. People love this brand for its anti-chemical, no synthetic preservatives, and safe cosmetics that have been extensively tested before packing. 
Each product is manufactured by using a blend of herbal ingredients to prevent, cure, and improve skin and hair, emphasizing a comprehensive approach to skin treatments. Lotus herbal is a brand that delivers and promises items at low costs, offering everything from skin grooming to hair care products and make-up.
L'Oréal for glowing skin
The world's famous skincare brand, L'Oréal offers a great deal of beauty and fashion. From their low-cost to high-rated products, they never compromise on the quality as it is a matter of your beautiful skin. They deliver all types of beauty products including, skincare, hair care, and makeup products for all types of skin and age. 
Nivea
The most common and leading brand in India, Nivea makes all kinds of products that cleanse, flourish and shield your skin. Its most famous products include its line of moisturizing lotions and creams. Now, men's care products are also getting hyped among people. 
The body shop
Based in the UK, this skincare brand is quite famous in India too. The body shop is a global skincare manufacturer that produces high-end beauty products while taking great inspiration from nature. The good thing about this brand is that each product is 100 percent vegetarian and animal cruelty-free for sure. 
Lakmé 
Owned by Unilever, it is one of the most affordable skincare brands you will find in every drugstore. You will have everything from makeup to skincare and haircare products here. Among makeup, the most famous products are eyeshadow kits, lip shades, eyeliners, moisturizing lotions, and sunblocks. 
Olay 
Olay is a cosmetics company founded in the United States, with product lines including "The total effects," "Perfect Radiance," and "Olay vitamins and experts. Age-related skin issues can be addressed with solutions like 'The Regenerist,' which are specially created to heal. In terms of effectiveness, Olay is the world's most popular cosmetics and one of the top skin care companies.