It can be overwhelming to decide what to wear to a party. When you walk in there, you want to look stunning whilst adhering to the dress code. However, when scouring your wardrobe for something that fits the occasion, you might feel stumped. Finding yourself in such a situation is hard but there is an easy solution: understand each dress code.
Hear us out, when you know what a dress code demands, you can easily decide your Perfect Outfit of the day. Here is what stylists have to say about each dress code that will help you to pick the Perfect Outfit for the day:
Cocktail Attire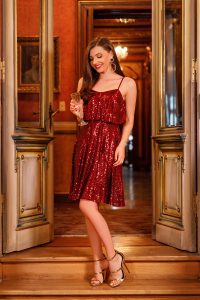 Think of cocktail attire as semiformal. Whatever you wear should be classy and flirty at the same time. Skimpy clothes are a big no when considering this dress code. It isn't what you would pick to wear to the office but it also isn't what you would pick for a formal event. Find the right balance in whatever you wear and you'll be good to go for a cocktail party.
You can never go wrong with a little black dress. Don't want a black cocktail dress? Try playing with colors and choose pastels or neutrals instead. Other options include wearing a long skirt with a sophisticated top. Fabrics that go well with such a party include lace, chiffon, and velvet if you can pull it off. Whatever you do, don't forget to take fancy footwear on the trip to a cocktail party.
Black-Tie Attire
Black-tie attire tops the formality chart and requires you to be classy. The party you're visiting is likely a wedding, award ceremony, or even a charity gala. The best thing to do is opt for monochromatic dresses which are long. You can never fail with a floor-length dress for a black-tie event. After all, they fit the dress code. However, do yourself a favor and steer away from dress trains as they are inconvenient.
Traditionally, black-tie events meant you could only wear black but those days are of the past. You can opt for other colors like maroon or emerald too. To finish off the look, you need a good pair of heels and the perfect jewelry. You can opt for a statement necklace or some bold earrings.
Festive Attire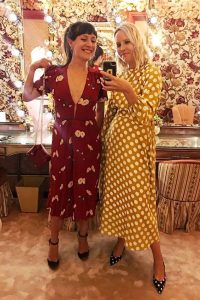 Festive attire is better known as creative cocktail attire. It is similar to cocktail attire but it has a little more glitz to offer. Usually, holiday parties demand this dress code to be followed by their attendees. There is more room for playing around with colors and there is a more prominent need to glimmer which is in line with the festive season.
Maxis and midis both work for this dress code. Wear whatever you think is fabulous and don't hesitate too much. By the way, you don't have to freeze because of this dress code. Try finding yourself a statement coat or a jeweled-up cardigan. Since this is festive attire, don't forget to wear some jewelry that expresses glee.
Business Attire
Business attire is the sort of dressing you would wear to a business party. Ideally, your outfit should be subdued and neutral instead of bold. Be respectable and don't choose something too revealing. Dress pants with a monochromatic blouse could work. However, you can even switch the dress pants with a skirt and call it a day. Wear classy jewelry that isn't too flashy.
Two things to keep in mind when dressing for a party adhering to this dress code: conservative neckline and a minimum of a knee-length hemline. It is crucial to be respectable to the occasion. If you wear something that is a little too revealing, you might end up becoming the talk of the office in a bad way.
Casual Attire
If the hosts are easy-going, they might ask you to come in casual attire. If you're picking out an outfit for a party like this, you don't need to work too hard. All you have to do is find a comfortable pair of jeans and a nice top to go with it. Some accessories won't hurt.
Casual attire is undoubtedly the easiest dress code to follow. However, you do need to look presentable. Consider applying some makeup so that you look fresh. Casual attire is meant to be effortless so you shouldn't have to work too hard for it.  The party is going to be a lighthearted affair but you need to look good.
READ NEXT: Ways to purchase shirts for men and to Style them right
RELATED TOPICS: Beauty Blog